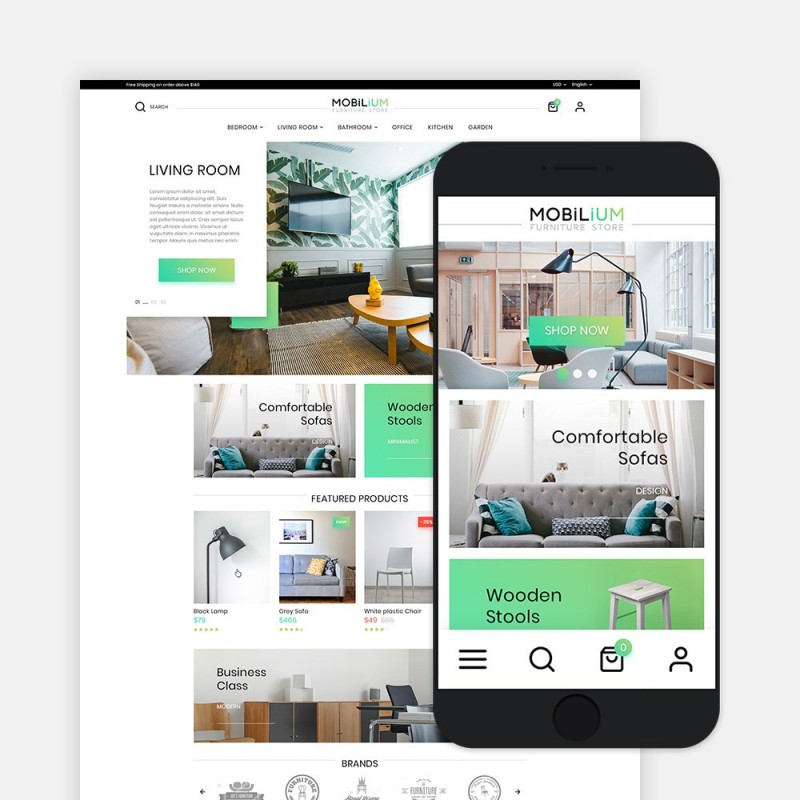  
Mobilium - PrestaShop theme

The ultimate PrestaShop mobile-first theme: designed first for mobile then declined on desktop.
The very first PrestaShop theme to integrate a new feature: the bottom bar. It's placed at a great place to be more efficient taking into account the "thumb zone" for smartphone users (who has not already stretched his fingers to reach the menu of a mobile site?) So that navigation can be done with one hand (49% of people hold their smartphones with one hand).
This powerful theme is SEO optimized and has excellent performance results on PageSpeed.
Multistore ready
Multilingual ready
Multicurrency ready
Compatible with native ProdcutComments addon (from PS 1.7.6)
CSS customizable
Responsive
Mobile First
IE11+ / Edge - Firefox - Chrome - Safari - Opera
PSD files included
Data sheet
PrestaShop compatibility

v1.7.4.0 ⇢ v1.7.8.x

Version pour PrestaShop 1.7.8.x

1.4.1 (01-05-2022)

Version for PrestaShop 1.7.7.x

1.4.0 (09-18-2021)

Version for PrestaShop 1.7.6.x

1.3.4 (06-14-2021)

Version for PrestaShop 1.7.5.x

1.2.0 (02-26-2019)

Version for PrestaShop 1.7.4.x

1.2.0 (02-26-2019)

Available in